Our guided walking tour to discover the unmissable and secrets of Montmartre
Montmartre is certainly the most famous district in Paris, but it has not lost any of its charm and authentic atmosphere of a small village. Montmartre is full of many unusual and must-see places not to be missed when visiting Paris.

You will meet your English-speaking tour guide at the meeting place according to the date and time you have chosen and confirmed with our team. With your guide you will walk through this area for nearly 3 hours and discover the unmissable and secret spots of Montmartre.

To start your visit with your tour guide, you will either take the Montmartre funicular to reach the Sacré-Coeur basilica or walk up the steps. This famous basilica has been built at the end of the 19th century and culminates at 50 meters, offering you one of the most beautiful views of Paris.
Not so far from the Basilica are located the oldest vineyards in Paris called « Clos Montmartre »: an unusual and green place in the heart of the capital.

Montmartre is not only famous for its Sacré-Coeur basilica but is also well-known to "the small village of artists ". Montmartre is home of a plenty of places not to be missed, such as the famous "Place du Tertre" where you can have your portrait sketched by one of the painters or cartoonists who will be present there.

With your tour guide, you will also stroll through the pedestrian and cobbled streets and discover some street art works. You will also pass some of the art galleries and workshops of artists such as the "Bateau-Lavoir" or even the house where the singer Dalida was lived in the 80's.
If you wish, you can also visit The Dali Museum, dedicated to the master of the famous Spanish surrealism, Salvador Dali where you will discover a private collection of his works (in optional). There is also another museum, named "The Musée de Montmartre », which can be included during your guided tour in Montmartre (optional).

Then, during your walk with your licensed guide, you will arrive in the trendy district of Abbesses which has also kept all its authentic charm. You will have a look of a the "I Love You Wall » which is a work of art dedicated to love where you will read the sentence 'I love you' written in 280 languages.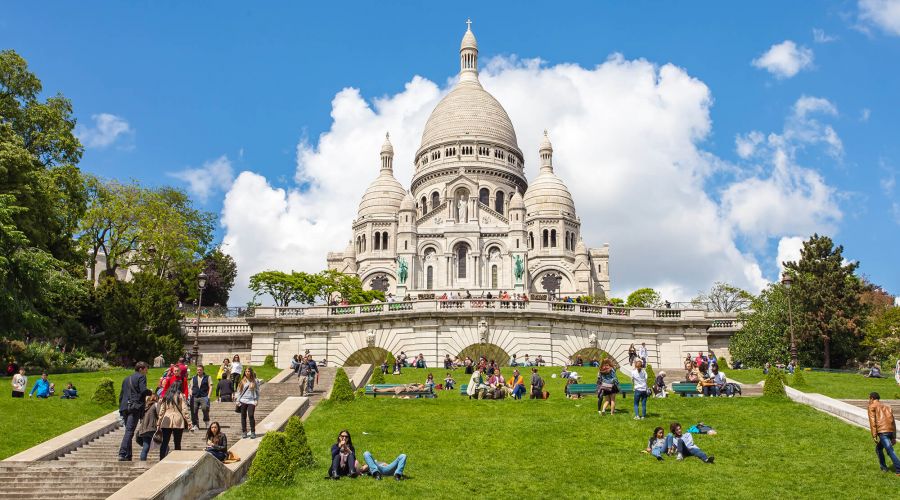 Experience a "100% gourmet" guided tour
Montmartre district is full of cafes, terraces and restaurants. Your tour guide can recommend his favorite addresses if you wish to drink a cup of coffee on one of the terraces, taste a glass of wine or have a lunch in one of the bistros or in the famous restaurant "Moulin de la Galette"? Everything is possible and can be suggested during your guided tour (optional).
To discover Montmartre in family with kids, it's also possible!
Children and parents can also enjoy a cultural and kid-friendly tour of Montmartre with one of our dedicated guides. Your guide will adapt your guided walking tour upon your needs and desires as a family. For instance, the Montmartre Funicular will take you to the top of Montmartre. You can also visit Montmartre on board of the touristic train (optional). Your children can also enjoy riding one of the most popular merry go-round The carrousels are located at the foot of the Sacré-Coeur basilica or on the "Place des Abbesses" (optional).

Montmartre neighborhood can be explored according to your interests (art, culinary, family etc.) and every guided tour can be tailor-made for you.