Chartres and its famous cathedral
The Cathedral of Chartres is a UNESCO World Heritage masterpiece and also one of the greatest witness to gothic architecture in France. With your private tour guide, you will discover the inside of the cathedral which has retained its splendor and its religious architectural gems with its most important collection of stained glass from the 12th and 13th century. You will also visit a plenty other details in the cathedral, observe the crypt and walk through the labyrinth.

Close to the cathedral, you can also visit the only « international stained-glass center » in France where the stained glass is highlighted through temporary and permanent exhibitions (optional).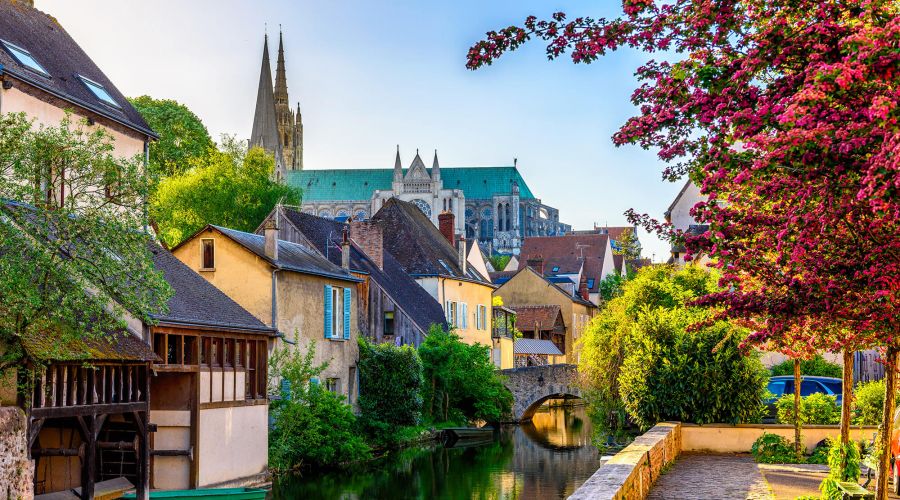 A nice walking tour of the city
Following your visit of the Cathedral, Chartres is also a nice invitation to walk in the heart of the old city with or without your private guide. With its medieval atmosphere, you will stroll through the well-preserved streets and historic districts, discover its charming half-timbering houses, cross its stone bridges on the banks of the Eure river.
Live a magical experience with the unmissable light festival if you have more time to spend
Every year, Chartres suggests a wide range of « must-see » events like « Chartres in Lights ». This enchanting free event occurs from April to October every year. It is a unique immersion to amaze you with the illuminated sites from nightfall.

If you have more time during your getaway, My Daily Driver will advise you to have a lunch or a dinner in the heart of the city, to discover other cultural sites and historical monuments not to be missed such as « la Maison Picassiette » : an unusual house decorated with pieces of broken pottery and crockery by a former resident named Raymond Isidore.
Do not miss to discover the 'trompe-l'oeil paintings' on the building located a few kilometers in the north of the old-town. Around the city, there are also few historical sites such as for instance the 16th and 17th century castle: Château de Maintenon, located 20 minutes drive.

My Daily Driver provides you private transportation from Paris to Chartres and assist you to tailor-made your itinerary. Our mission is to provide you the best quality service and to create the best private tour according to your wishes and your time.