Fontainebleau offers a true cultural and green getaway
Napoléon described the Château de Fontainebleau as "A true abode of kings and the castle of centuries". The Château de Fontainebleau can be visited all year long, according to your rhythm and your interests to discover historic and architectural masterpieces from the 12th to the 19th century.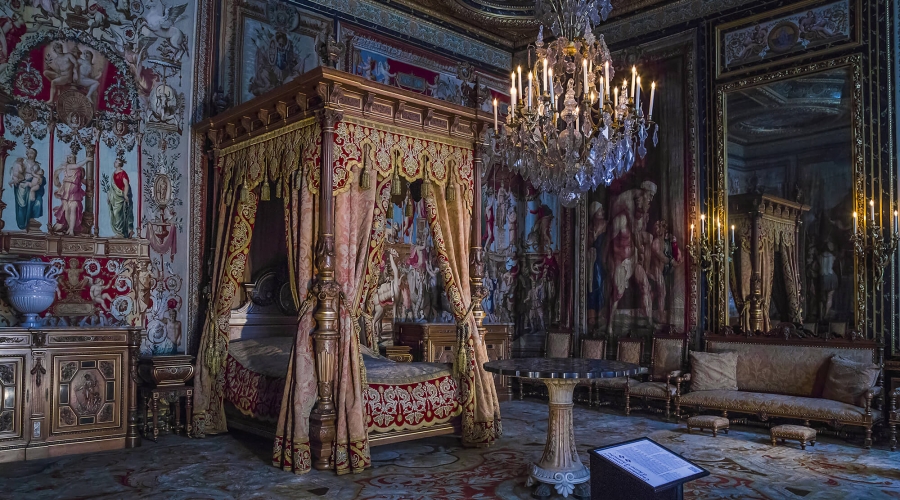 A cultural and historical immersion in the heart of the Château de Fontainebleau
Following one-hour drive from Paris, your chauffeur will drop you to the Château of Fontainebleau where you will meet your English-speaking licensed guide. During three hours, your dedicated guide will do a private visit inside the Chateau with the François 1er gallery, the ballroom, the Pope's apartment and the royal apartments and also its main courtyards and its three gardens.

If you have time to enjoy more Fontainebleau, do not miss its scenic forest which is definitely the favorite getaway for Parisians for a day or two. This forest has nearly 5000 plant species, 28.000 hectares of pines and oaks and sandstone rocks and 300 kilometers of footpaths, attracting millions of visitors every year.

Your private chauffeur will wait for you during your visit in the castle and / or your walk in the forest. If you have also more time to spend, we can advise you to book a table for a nice lunch in one of the restaurants in the heart of Fontainebleau city, before or after your visit in the Château. Furthermore, some attractions can be experienced and planned to explore more the parks and gardens of the castle with a horse-drawn carriage ride or a boating ride for instance (optional).
Discover the neighboring "village of painters", Barbizon
Located at 10 kilometers from Fontainebleau (15 minutes' drive only), the village of Barbizon is nicknamed as "the village of painters" and is also steeped in history. The charming stone houses, its relaxed atmosphere and the house-studio of the French painter Jean François Millet who painted in the 19th century the famous painting "The Angelus" are the unmissable to visit if you have time before or after your visit of Château of Fontainebleau.