A high-end car for the happy couple
You dream of an elegant wedding-car ? You can choose within our large fleet of luxurious vehicles, ranging from classic sedan to the top of prestige. A professional driver in a suit will serve you with perfect discretion. Your wedding-car can be decorated with flowers in harmony with the venue. Your wedding photographer can freely use it if needed for the photo shoot.
Relax, My Daily Driver takes care of everything
Your Big Day is a lot of organization, but first and foremost, it is your special day. To ensure your total serenity, My Daily Driver can take charge of the whole transportation logistics on your wedding day. We meet your needs and desires so you can fully enjoy the moment.
We offer a shuttle for commute between the venue and your guests'accomodation. This way everyone can enjoy the party till the end without having to worry about being able to drive or not.
To free your mind on the Big Day, we provide you with a mission coordinator that will supervise all transportation matters, either from our headquarters, or on the place of the event from a specially equipped vehicle.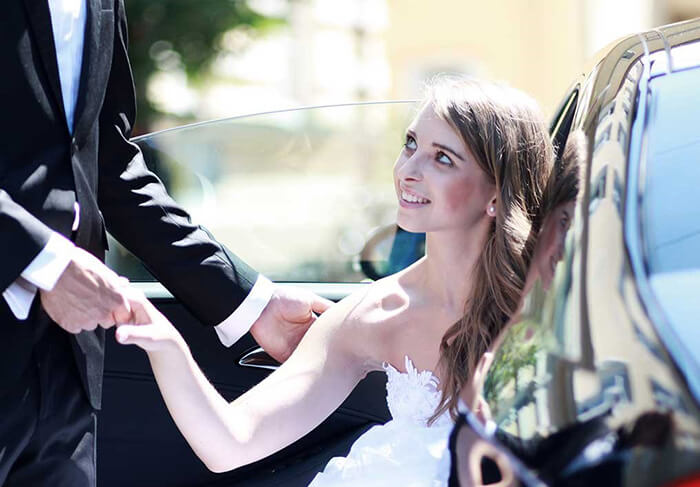 Tailor-made service for your wedding
If you have to move a lot on your Big Day, from the hairdresser's to the venue and your accomodation for instance, we can provide you with a van so that you don't have to worry about transportation.
A private driver can also pick your service providers up – hairdresser, make-up artist, photographer, video maker, wedding planner - and drive them to the venue.
Bachelor / bachelorette party
A van with a private driver can prove very useful for your bachelor or bachelorette party ! You can rest assured that the program of all planned activities will be scrupulously followed, without having to worry about anything. What's more, you can safely leave your personal belongings in the car and go have fun.