A real wonder of nature that can be missed
Located on a rocky island, there is a beautiful UNESCO World Heritage Site, called Mont Saint-Michel, off the coast of Normandy. With 2,5 million annual visitors, this historic jewel is the third most visited tourist site in France (following the Eiffel Tower and the Château de Versailles) and also the top pilgrimage and most photographed site thanks to the beauty of this stunning place.

Your private chauffeur will drive you directly to Mont-Saint-Michel and will drop you on the parking of the site where you will meet your English-speaking guide. You will reach this huge and unmissable rock either by one of the shuttles site.

Mont-Saint-Michel site has been recently totally transformed with pedestrian walkways to admire the panorama on Mont-Saint-Michel and to enjoy the beauty of this natural and historic site with its village, its Romanesque-Gothic abbey with your dedicated guide.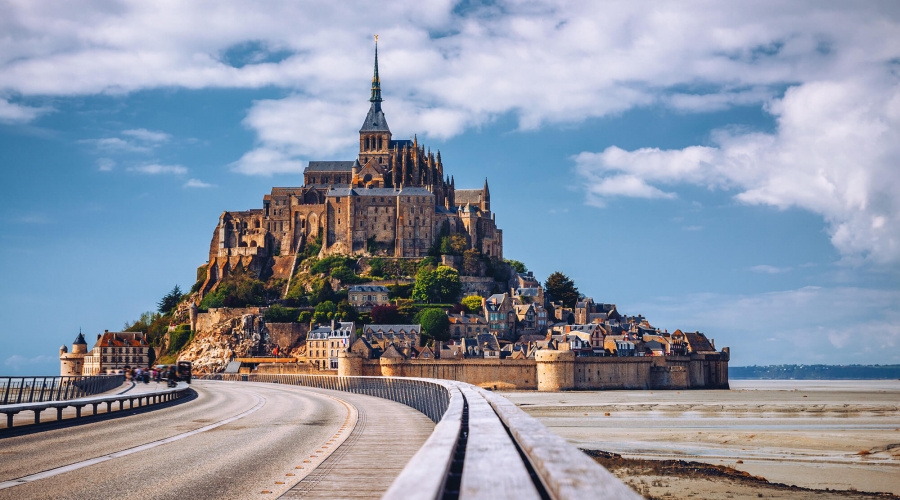 Your guided visit of the highlights in Mont Saint Michel
Mont-Saint-Michel offers beautiful points of interest with its Romanesque-Gothic abbey which is a real masterpiece of medieval architecture dating from the 10th to the 15th century.

During approximately 2 hours and a half, your private guide will make you discover the island of Mont-Saint-Michel with a walking tour in the fortified island of the Mont-Saint-Michel and its village and in the narrow streets to enjoy magnificent views of the abbey and surrounding bay which is a real wonder of nature. You can also have a gourmet stop at "Mère Poulard" located at the entrance of the site known for its famous omelet cooked over the fire in the grand fireplace.

Following your guided tour, you will have a lunch in one of the restaurants located inside the island.
After your guided tour in Mont-Saint-Michel, three visits options are available for you !
Following your guided tour in Mont-Saint-Michel site and your lunch, you can keep exploring Mont-Saint-Michel by your own, without your guide, for a few hours. Otherwise, you will meet again your chauffeur at the car park who can drive you to one of the other cities in Brittany: Saint-Malo or Rennes.
Indeed, you can choose to spend time in the corsair city of Saint-Malo surrounded by ramparts located 45 minutes' drive from Mont-Saint-Michel. Your visit can be done by your own or with your private guide.

Or your chauffeur can drive you to the city of Rennes, located one-hour drive from Mont-Saint-Michel, which is a city famous for its beautiful historic center with its medieval houses and its beautiful cathedral. Either Saint-Malo or Rennes, you can explore the city during two hours before driving back to Paris at the end of your day.

If you have more time, we can also book for you a night in the region: either a night on the shores of the bay to contemplate the wonderful Mont-Saint-Michel or in a hotel in the seaside town of Saint-Malo or Rennes to better enjoy this nice region in France.