A private guided visit to discover secrets inside the Castle
When you will arrive in Vaux-le-Vicomte, your chauffeur will drop you at the foot of the castle where you will meet your dedicated guide.

With a fully licensed English-speaking guide, you will visit the interior of the castle with its Private and Royal Apartments, the Vestibule, the Grand Salon, the beautiful kitchens and all the remarkable masterpieces: paintings, sculptures, tapestries and furniture of exception. During one hour and a half, your guide will share with you the secrets and the history of the castle dating back over three centuries and a half in order to live a cultural and memorable immersion inside the estate.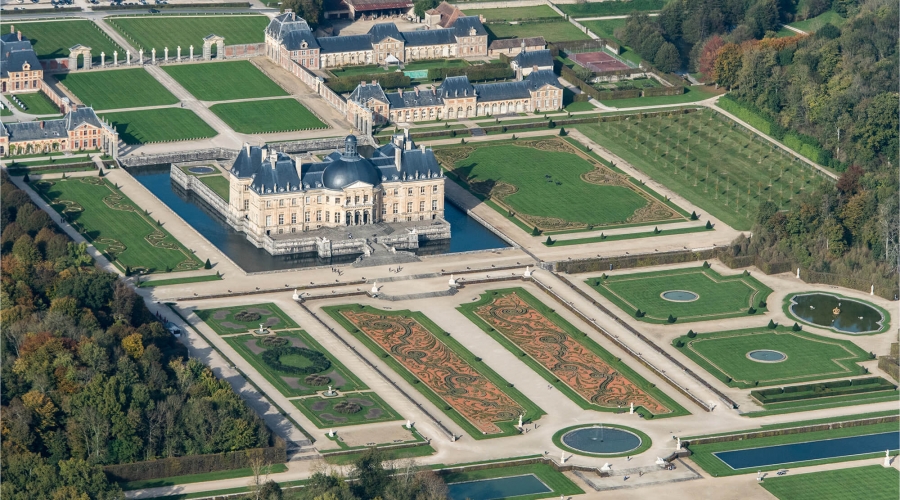 A masterpiece of French art with its gardens so well preserved
Then, you will do a nice walk to explore the elegant and the harmonious Baroque gardens which have been geometrically designed by André le Nôtre. Your guide will show you the gardens, its fountains, its patterned parterres, its 62 restored statues all around the castle and all the perspective you can enjoy with a breathtaking view of the castle.

It is also possible to book in advance for you one of the unusual experiences suggested by the Castle, such as for instance the visit of the domain aboard electric buggies or also the visit of "the Styx the river of the classical underworld". This one kilometer long underground river was also diverted by Le Nôtre in the 17th century to create the future of the French gardens. Thus, with front lamps and thigh boots you will explore this unique site with a comedian in an unusual and adventurous way!
Discover the Domain in a different way, it is also possible !
For even more immersion in the 17th century and in a fun way, you can live the "Grand Siècle experience "in a period costume rental. You can borrow your costume at the entrance of the Castle.

Furthermore, many events and animations are organized all year long to invite you to discover the Castle differently and to live even more the magic of the Domain.

There are many other places to discover in Seine-et-Marne area: so if you have time, we can suggest you the visit of the French castles Chateau of Fontainebleau, following the visit of the city of Barbizon which can be organized before or after the visit of the Château de Vaux -le-Vicomte.